Top Getaways: What to visit in Nueva Vizcaya?
Written by: Chester Jhun B. Castro, Golden Haven Nueva Vizcaya
Nueva Vizcaya is likewise an exceptional ecotourism objective. From falling cascades, grand mountains, untainted caverns, completely clear waterways, and streams, to memorable chapels and consecrated destinations, Nueva Vizcaya offers an undertaking that should not be taken lightly as it lies in its well-kept nature attractions, cultural celebrations, and warm hospitality.
The province comes as in every Filipino traveler's interest, also known for rich soil with a plentiful stock of oranges. Indeed, it is the citrus capital of the Philippines. You'll clearly adore visiting the ranches and picking the new organic products for yourself.
In any case, there is something else entirely to that.
Here is a rundown of the getaway you could have in Nueva Vizcaya:
Discover Old Churches and Cultural Establishments
Saint Dominic Cathedral
Also known as the Bayombong Cathedral, formerly known as Saint Augustine Church, is one of the tourist spots in Nueva Vizcaya. An 18th century Roman Catholic Church where Saint Dominic is the patron saint of the town whose feast day is celebrated every August 8. The church is a Baroque architecture with a beautiful facade and octagonal bell tower made of red bricks.
The church went through earthquakes and fire incidents that happened several years back which damaged and destroyed the church. Reconstruction has been made but the bell tower and facade remained in their original state. What remains thus of the old church is only its facade.
St. Vincent Ferrer Parish Church
St. Vincent Ferrer Parish Church in Dupax del Sur is a grandiose structure made of brick, lime, coral or river rock and wood plastered over with stucco featuring a baptistery and narthex pillars covered with finely carved stucco. The two-story convent, like old Spanish churches, is connected to the church.
The church is known as the best-preserved church complex in Nueva Vizcaya which was built in 1775 and survived many earthquakes. It was declared a National Cultural Treasure by the National Museum of the Philippines. It's also the largest church in the province since the 18th century.
Dive into the clear cold waters
Capisaan Cave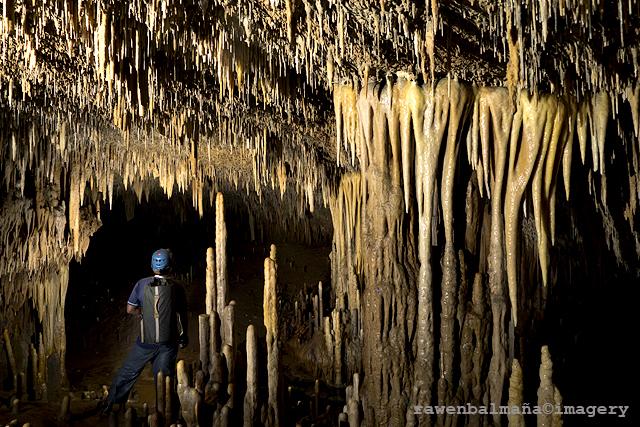 Located in Barangay Capisaan and Alayan in Kasibu, Nueva Vizcaya. The fifth-longest cave system in the country and ranked as one of the best. It is considered as a geologist's paradise where 4.2km length river from the Lion Entrance, named as such because the rock looks like an image of a lion. A bit like the Puerto Princesa Underground River which 70% of it is filled with water. There, you can find rare kinds of calcite formations, chambers, and tunnels that have unique stalagmites, stalactites, rock formations, and other speleothems.
Lintungan Falls
Within a pretty much-secluded area of Brgy. Lintungan of Quezon, Nueva Vizcaya – surrounded by a healthy rainforest, it's no wonder that even if it was the height of summer, the flowing waters were indicative of an environment that is thriving and protected. The waterfalls have 4 level drops with pools suitable for swimming. The 1st pool measures 6 feet, the 2nd pool measures 8 ft, the 3rd pool with 10 ft while the 4th pool measures 7 ft.
Imugan Falls ( Sta.Fe, Nueva Vizcaya )
Is a two-level fall with a shallow catch basin with a 35-foot single-layer cascade along the Imugan river which is located within the village of the same name. Its cold water emanates from a spring atop Mount Imugan dropping to a shallow basin before flowing downstream.
Its trailhead is 1.5 kilometers from the main road of Barangay Imugan and can be reached in about 30 minutes of a leisurely walk along a paved trail dotted with signages and directions. Its grandeur and natural beauty makes it a worthy adventure. Its accessibility also makes it a favorite stop for tourists who wish to experience the Nueva Vizcaya.
Appreciate nature's beauty from its high points
Sea of clouds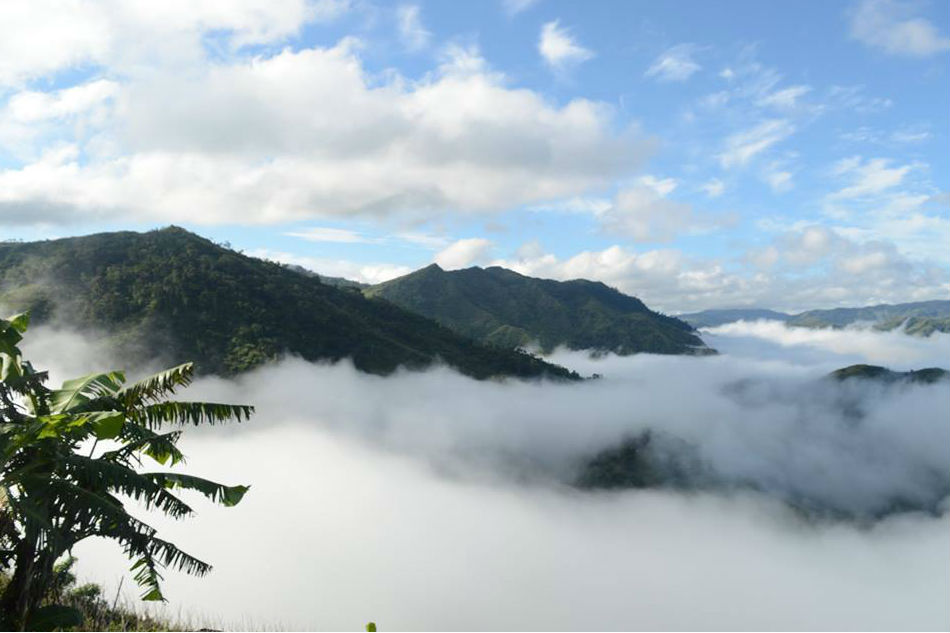 Hundreds of tourists gathered every morning in the village of Binuangan in Dupax del Norte town to witness a spectacular view of clouds surrounding mountains. The best spot to witness the "sea of clouds" is on Kilometer Post 0466 along the National Highway. the "sea of clouds" appears at a rare sight only after a heavy downpour in the afternoon or at night. The view is also visible for only a few hours before sunrise.
Courage Mountain
Courage Mountain Agri-Ecotourism and Learning Center in Brgy. Bansing, Bayombong . A sprawling farm that offers a refreshing, calming, and relaxing farm and rural experience through its verdant mountain landscape, flower and rock garden, fruit-bearing trees, forest and vegetable gardens, eco-adventure trail/walk while overlooking the mighty Magat River and the low-lying towns Bagabag, Solano and Bayombong.
Golden Haven Nueva Vizcaya (Real. St. Brgy. Buag Bambang)
Golden Haven, as a memorial park developer designing to the next level to featuring a breathtaking view of the province of Nueva Vizcaya from the rotunda of the park overlooking the whole town of Bambang and the other neighboring towns and the great wall of mountains surrounding the province.
Inspired by the region's Spanish roots especially when it comes to religion. Golden Haven brings a Spanish-themed Memorial Park in the citrus capital of the Philippines bound to be the number one spiritual destination in the region. Golden Haven Nueva Vizcaya pays homage to the glorious heritage of the Andalusian Region of Spain. Inspired by the stations of the Cross and celebration of the glorious mysteries, as well as Andalusia itself.
Golden Haven, known for winning Best Landscape Design in Q Asia Awards and being the developer of the most beautiful memorial parks in the Philippines have taken Memorial park designs to the next level up to not just a place to remember and honor our loved ones but also being the perfect getaway place in the region and a place to appreciate life and make beautiful memories with your family that'll be treasured forever.
RELATED: Golden Haven is named Best Landscape Design Memorial Park in the Philippines
About Golden Haven
Golden Haven Memorial Park is a subsidiary company of publicly listed Villar-owned Golden MV Holdings Inc. Currently positioned as one of the largest real estate companies in the country. Golden Haven offers premium death care services and prime memorial lots. It is dubbed as the most lucrative real estate investment with an average of 20% annual value appreciation.
Online Reservation
Golden Haven commits to the safety of both our clients and employees. We are now offering online services for our admin transactions. Choose from the services on our website through our online service page to schedule your appointments. You may also get in touch with us for any of your concerns.
Join the Golden Haven Community
Be part of the Golden Haven community today! Visit goldenhaven.com.ph or follow "Golden Haven" on our social media platforms. We are on Facebook, Twitter, Instagram, YouTube, Pinterest, Spotify, Tiktok, and Viber. For sales-related inquiries, you may contact (02) 8873-2922 to 23.