Investing? These memorial lots appreciate by 20% per annum
Investing? These memorial lots appreciate by 20% per annum – Property Report

"You're investing, so you should be ready to lose funds," says some millennials and Gen Zs who are willing to invest their hard-earned money on trending platforms such as crowdfunding projects.
Despite the pandemic, these young investors continue to be aggressive risk takers, seeking for solid passive income and financial growth. Perhaps these savvy, young achievers should instead look into investing in memorial lots, whose appreciation value has gone up to an average of 20 percent annually, at least for Golden Haven.
READ MORE: Golden Haven Memorial Lots Value rise 2000%
Golden Haven Memorial Lots Appreciate
Present in more than 30 locations nationwide, Golden Haven is the developer of the country's largest chain of beautiful and sustainable memorial parks. It is also part of Golden MV Holdings Inc., a publicly listed company in the country, which makes it easy for investors to track and monitor its performance.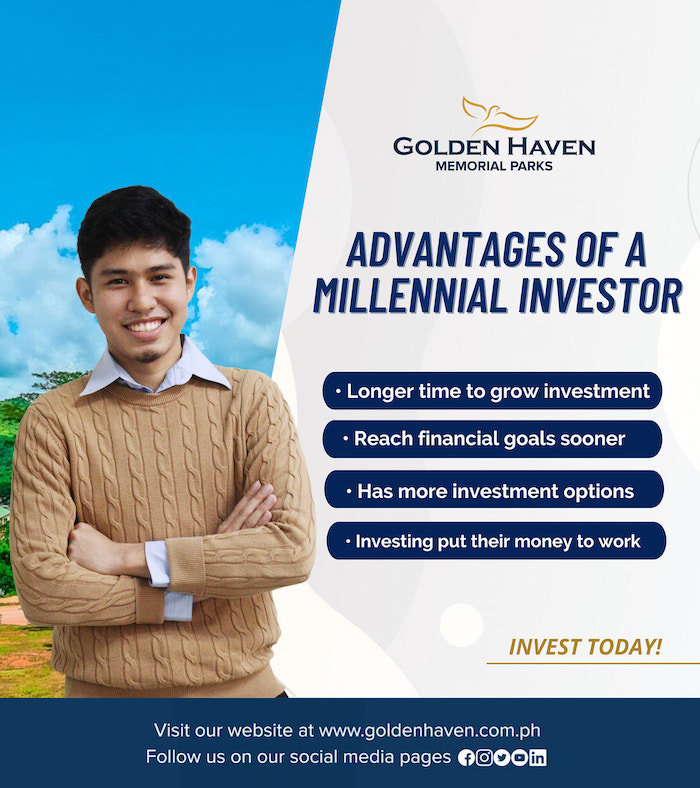 Interested buyers only need to present one valid government ID to jumpstart their investment journey. The company encourages prospective investors to do online transactions, from the comforts of their own homes. The company's efficient digital marketing representative can guide them through processes, including park briefings and memorial lot selections to payments.
The company's COO, Red Rosales, shares his great optimism for the brand as an investment option: "Golden Haven takes pride in every aspect of its business—from the design of the parks to customer service. Its attention to details and singular quality of service consistently help boost the value appreciation of our memorial lots. 
"We thus invite today's intrepid young professionals to invest in Golden Haven memorial lots in order to achieve their financial goals and secure their future down the line," he caps.

READ MORE: An Investment that Goes Beyond Your Lifetime
About Golden Haven
Golden Haven Memorial Park is a subsidiary company of publicly listed Villar-owned Golden MV Holdings Inc. Currently positioned as one of the largest real estate companies in the country. Golden Haven offers premium death care services and prime memorial lots. Dubbed as the most lucrative real estate investment with an average of 20% annual value appreciation.
Online Reservation
Golden Haven commits to the safety of both our clients and employees. We are now offering online services for our admin transactions. Choose from the services on our website through our online service page to schedule your appointments. You may also get in touch with us for any of your concerns.
Join the Golden Haven Community
Be part of the Golden Haven community today! Visit goldenhaven.com.ph or follow "Golden Haven" on our social media platforms. We are on Facebook, Twitter, Instagram, YouTube, Pinterest, Spotify, Tiktok, and Viber. For sales-related inquiries, you may contact (02) 8873-2922 to 23.